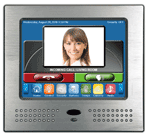 VoIP Intercom
Home Automation, Inc. (HAI), leading manufacturer of integrated security and home automation products since 1985, announced that VoIP (Voice over Internet Protocol) intercom has been added to the OmniTouch 5.7e Touchscreens and a door station Connectivity Partner has been established.
The VoIP Intercom is point-to-point from one OmniTouch 5.7e Touchscreen to another. Existing jobs with OmniTouch 5.7e Touchscreens can add Touchscreen-to-Touchscreen intercom functionality with a free firmware update. New OmniTouch 5.7e Touchscreens will ship with intercom capability. HAI's Automation Studio software is used to configure the 5.7e's for intercom use.
The OmniTouch 5.7e intercom features manual accept/reject options, but also possesses the ability to auto-answer. To ensure privacy, the intercom features a do-not-disturb mode.

Local settings at each OmniTouch 5.7e control intercom volume levels (for both voice levels and ring levels) as well as privacy options (auto-answer, do not disturb, and mute). The screen will notify the homeowner where the message originated (front door, guest bedroom, etc).
Intercom is now available on OmniTouch 5.7e's. Intercom functionality for OmniTouch 10pe Portable Touchscreens and OmniTouchPro interface software for third-party Windows Touchscreens is expected to be available in early 2011.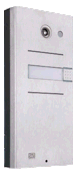 One-Button VoIP Door Station with Camera
One-Button VoIP Door Station with Camera - 2N Telecommunications adds more functionality and benefits to an HAI access control system. Thanks to the integrated SIP protocol, 2N Helios can make use of all VoIP services, call forwarding at absence (to another office, to the Voicemail system or a cellular phone) or call switching (e.g. from the secretary's office to a specific person).
When combined with an HAI OmniTouch 5.7e Touchscreen, homeowners not only speak to and hear visitors at the door, but see them as well. The door station is intended to be used in conjunction with HAI's OmniTouch Touchscreens featuring VoIP communication.
"We're very pleased to introduce intercom capability to the HAI product line." explained HAI President, Jay McLellan. "Communication to a third-party door station was very important on initial release, and Helios 2N IP Door Station is an impressive option".
By pressing the dial button on the door station, it will call the configured Touchscreen and display streaming video from the embedded camera. If someone accepts the call at the Touchscreen, the Touchscreen will initiate a two-way audio conversation. If no one answers the call at the first Touchscreen, the door station can call an alternate Touchscreen in another area.
The door station connects to the home's Ethernet network and uses PoE (Power over Ethernet) technology. The door station uses VoIP SIP protocol and features an integrated web server.