Anyone who desires to protect their dwelling or property should consider a Home Surveillance System. When seeking surveillance systems Toronto area residents can rely on Home-Elite, a premier provider of equipment, installation and service. Home-Elite can handle all aspects of a Home Surveillance System projects, from project design to installation and programming. In addition to providing top-quality Surveillance Systems, Home-Elite also offers other value-added technology for Home Automation, Home Theatre, Lighting Control, Networking, and much more.
Over the years, Home Surveillance System technology has advanced continuously. As a result, more and more homeowners in the greater Toronto area are choosing to install high-quality in-home surveillance systems from Home-Elite. The company supplies all products and expertise for the professional home surveillance systems Toronto area residents need and deserve.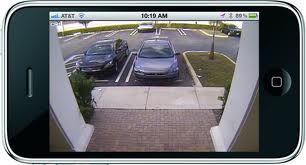 One surveillance system approach preferred by many Toronto area residents is closed circuit television, or CCTV. Typically, this set up includes one or more cameras in strategic locations, along with digital video recorders (DVRs) for image capture. With a CCTV surveillance solution, Toronto homeowners can enjoy system control and monitoring from multiple locations, even when they are away from the residence.
When installing surveillance systems, Toronto area homeowners often opt to add access control as an extra measure of protection.  Home-Elite's Access Control Solutions, which manage who can enter a building or section of a building, also have high appeal to business owners. In a home application, access control solutions, which require an individual to swipe a key tag or card to enter a specific area, can benefit parents who need to secure pools or wine cellars.
Toronto area residents may choose to add multi-purpose security systems to complement their home surveillance solution. Advanced security systems from Home-Elite can detect intruders, carbon monoxide, smoke, water, or fire. Many of these systems can double as an access control solution by requiring individuals to enter specific user codes for property access. Another value-added feature is a central monitoring system with automated voice notification via phone.
Any Toronto area residents who desire a home automation solution can turn to Home-Elite for equipment, along with professional installation and design. Home-Elite Home Automation packages, which suit every type of lifestyle and budget, can work in both new construction homes and existing dwellings.  Homeowners in Toronto can enjoy home automation solutions featuring the same centralized and remote management that is part of Home-Elite's Surveillance System packages. Home Automation options include: Multi-Room Sound, Lighting Control, Home Theatre, and Networking.  Without question, a home automation solution is a great add-on to the home surveillance systems Toronto area residents select from Home-Elite.
Today's Home Surveillance Systems rely on advanced technologies, which can scale to meet the needs and budgets of Toronto homeowners.  Toronto's business owners also turn to Home-Elite for the surveillance and security systems they need to protect their corporate assets.  When looking for the best surveillance systems, Toronto residents know they can trust Home-Elite for state-of-the-art equipment and professional expertise.  Whether you are seeking a surveillance, security, or home automation system, you can rely on Home-Elite.